Now you have a new way to earn from and connect with customers on NiteFlirt with Chat! Chat helps strengthen existing relationships and build new ones all while earning money at times and in places you couldn't before. Enroll now! (learn more)
Customers must initiate chats first (Sorry, Flirts can't chat with other Flirts!). When they do, you will earn $0.46 per volley. What's a volley? A volley is your first response within 24 hours of the customer's last message. This simple rule makes everything fair, and it's much better than per message or per minute approaches. When you chat, the "NF" indicator shows when a volley has been exchanged.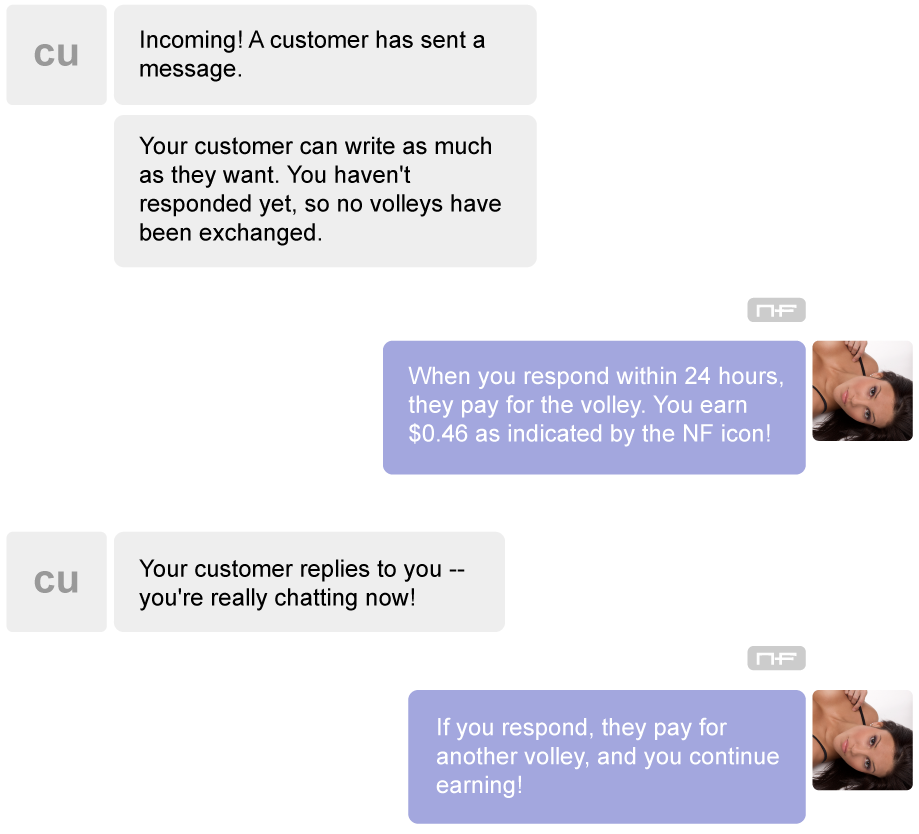 For tips on how to make the most of Chat, check out this article.
To enroll, click on Chat in the NiteFlirt header. Enter the mobile phone number you want your Chat Alerts sent to, and we'll text you a verification code. You'll only have to verify your number once, and as always, no one will ever see your actual phone number.
Please note: You can only register one US/Canadian mobile number for Chat Alerts (and that number can be registered on up to three different accounts). International Flirts are welcome to use the Chat feature, but cannot sign up for Chat Alerts at this time.
Like all communications on NiteFlirt, we never reveal your personal information to others, and this includes Chat! We even remove all personally identifying information (Exif data) from photos, so it's safe to exchange photos via Chat.
During the enrollment process, you'll be asked to personalize your Chat Card. When customers are browsing Flirts who are enrolled in Chat or when they visit your Flirt Profile, we'll show them your Chat Card. Enter the tag line you want displayed on your card to entice customers to chat with you.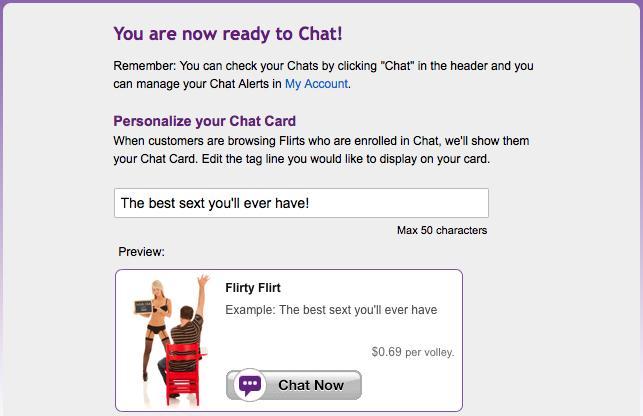 Then select a photo to use on your Chat Card. You can upload a new one or select from previously uploaded File Manager images. You are welcome to update your Chat Card photo at any time. Be sure to click "Looks Good" to save your changes.
Once you've enrolled in Chat, click on the Chat icon

in the Flirt Center to update your Chat Card tag line.
When customers are browsing for Flirts who are enrolled in Chat, Chat Cards placement is based on your responsiveness and whether you have Chat Alerts on.
Chat Availability & Alerts
You can set your Chat Availability and turn Chat Alerts on or off in the My Availability section of My Account.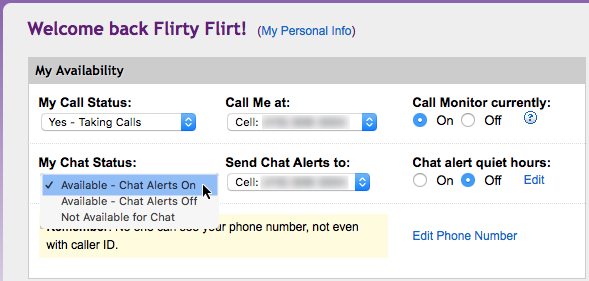 "Available - Chat Alerts On"

Use this setting when you are available to chat and want to receive Chat Alerts.

Chat Alerts are only sent to your phone via SMS if you haven't been active on your NiteFlirt account for 30 minutes or more. This is so that you're not bothered with text alerts when you're active on the site — it would be annoying since you're already there! Text alerts should stop about a minute after you reply to a message, either via our mobile site on your phone or the desktop site.

"Available - Chat Alerts Off"
Use this setting when you are available to chat and do not want to receive Chat Alerts.
"Not Available for Chat"
Use this setting when you're not available to chat. When you're not available, customers who send you chat messages will be notified that you may not get back to them right away. But do try to get back to them within 24 hours so that you can earn a volley!
Quiet Hours
If you elect to receive Chat Alerts but don't want to be bothered during certain time periods (like when you're sleeping, for example), use the radio buttons to observe quiet hours. Click "Edit quiet hours" to set them!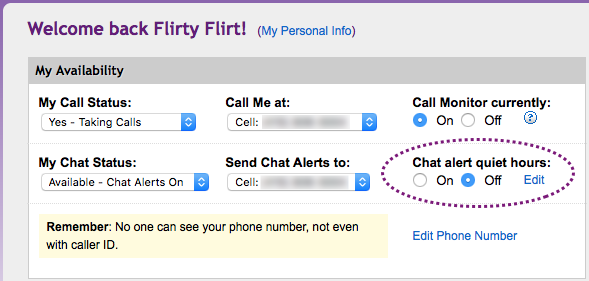 Managing Chats
View and manage your Chats by clicking Chat in the NiteFlirt header.

- Hover over this icon to reveal additional options:
Customer Details - Click Customer Details to see an overview of your history with this customer and to review your notes.
Block - Click Block to add this customer to your blocked list. Blocked customers will no longer be able to interact or transact with you.
Close - If you want to remove inactive chats from your list, use the Close option. A closed chat will no longer show in your Chat list and it will remain closed until you receive a new message from the customer. To send a new message, the customer must go to your Profile or Listing page.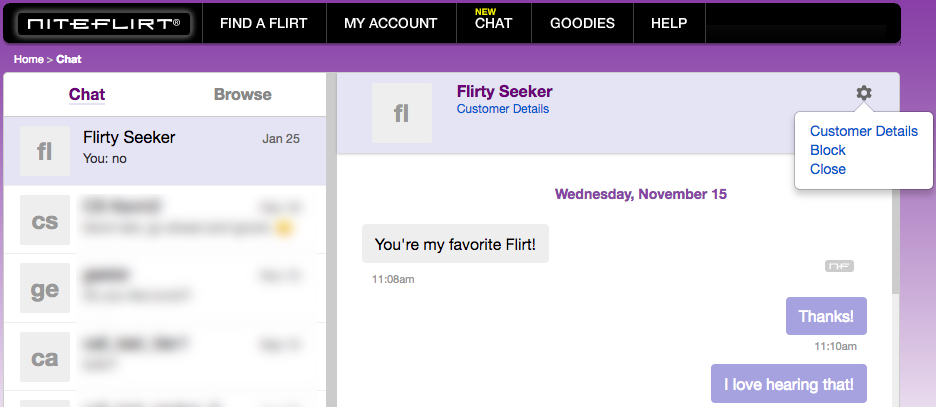 You can also just delete an individual message or photo within a Chat if you no longer want it to be visible. Just click the message/photo you want to remove and then select the

icon. The message or photo will be removed from your side of the Chat's history. Deleting messages and photos is permanent -- they cannot be restored.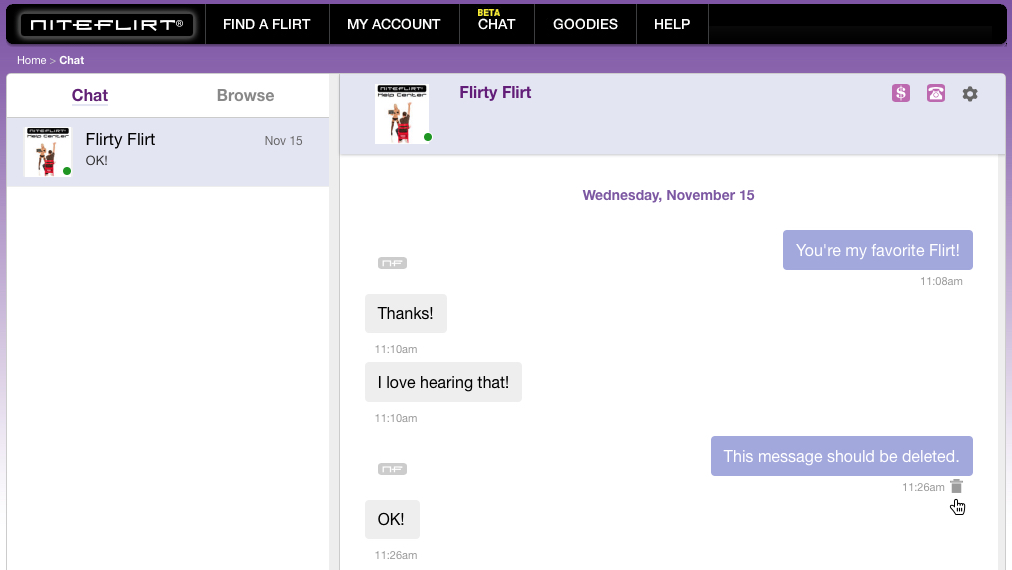 Customer Features
Customers have a few options in their Chats with you. These options are located in the upper right corner of your Chat:


- Customers who click this icon will be prompted to send a Tribute to you without even having to leave the chat! When a Tribute is sent via Chat, both you and the customer will see a chat message letting you know that the Tribute has been received:


- Customers who click this icon will be taken to your phone listings. When your chat would be better served as a call, be sure to encourage customers to place a call instead!

- And like you, customers can block you and close Chats from the gear icon.
Unenroll
If you no longer want to use the Chat feature, click on the Chat icon

in the Flirt Center to access your Chat Card and then click "Unenroll from Chat." New customers will not be able to initiate chats with you, but existing Chat customers will still be able to send messages.