To update or make changes to your Member Name, email address, password, PIN, phone numbers, and time zone, click on "Edit" in the My Personal Info section of My Account.


Flirts can click on "Edit Account Info" next to their Member Name at the top of the My Account page.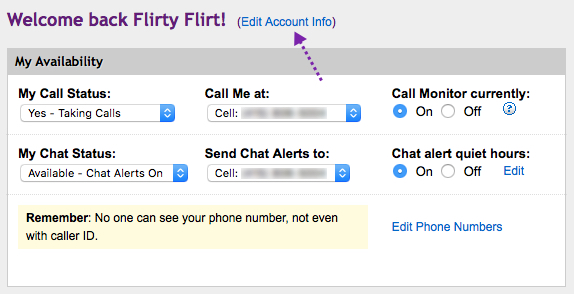 Account Information - Member Name, Email Address, PIN, Password, and Time Zone
You can update your Member Name, email address, PIN, password, and time zone at any time in the Member Info section.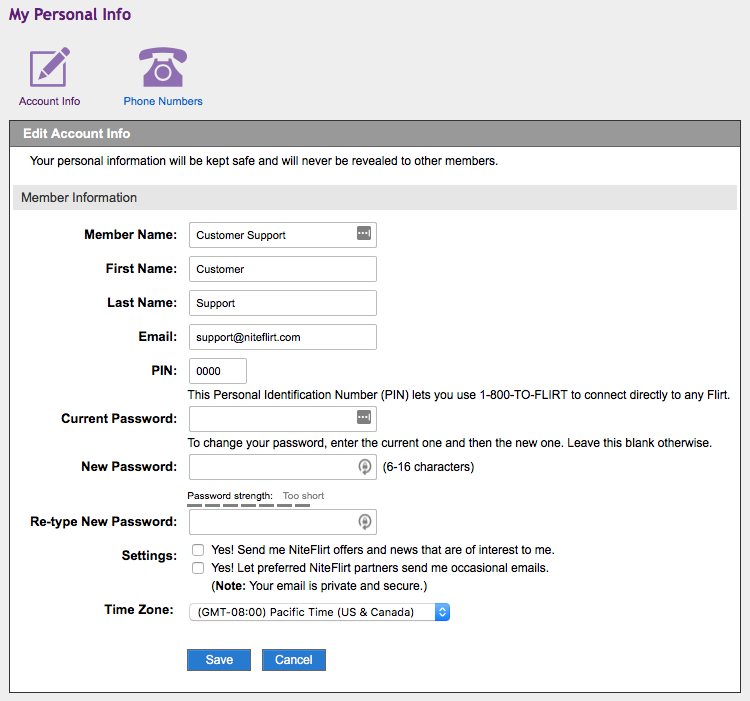 As with all online accounts, make sure that you keep your email address current. If you ever forget your password, you'll need to be able to access the email address that's on file in order to reset your password. Your NiteFlirt password should be unique to NiteFlirt and you should never use the same password for any online accounts. Check out Account Security & Safety for more tips on keeping your account safe!
Phone Numbers
You can add up to 3 phone numbers to your account, and you are allowed to use each phone number on a total of 3 NiteFlirt accounts. This limit applies even if the phone number has been deleted from an account or the account has been closed.
To make changes to a number, delete the number by clicking the

icon. Then re-enter it or enter a new number in its place.
If you're located in a supported country outside of the US & Canada, click "Enter International Phone Numbers to change the formatting for your phone number.