Monthly Check
Paid out on the 1st of the month
Received in the mail by the 21st of the month
If you do not have a US bank account or if you would prefer to be paid via paper check, select Monthly Check by midnight PST on the last day of the month. As long as you have $10.00 in eligible earnings*, we'll deduct your payout on the first of the month (around 7:00 AM PST) and send your check to the address you have provided. The check will be paid by "NF Services."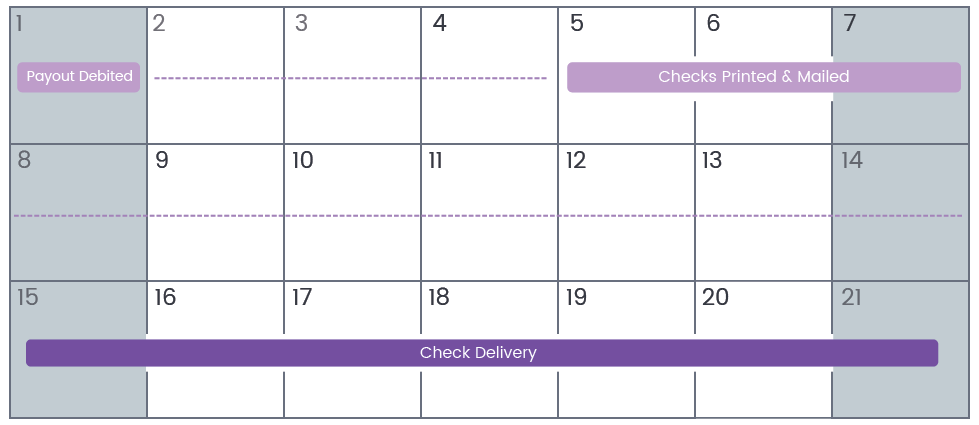 You will generally receive your check by the 21st of the month depending on where you live. Currently, there is no charge for getting paid by check. However, we reserve the right to charge $2.00 for each time we process a paper check.
Please note that a $15.00 fee will be applied for any checks returned in the mail or on which a stop payment is placed.
To get paid, click on Request Payout in the Payment Info section of the My Account page.

*To be paid out, you must have at least $10 more in eligible earnings than your "Balance to Be Left in Account" (which you choose). For example, if your "Balance to Be Left in Account" is $5.00, you must have at least $15.00 in eligible earnings. Eligible earnings are any funds earned through Live or Recorded Calls, Paid Mail, Goodies, or Tributes. Funds which are added to an account from a credit card are not eligible to be paid to you. Except when specified, funds credited to your account for Special Offers or other Promotions will also not be paid out.